Coyote Blues
Some friends and I decided to try out Coyote Blues on Acadian (in the old Lone Star building). We've heard people rave about the Lafayette location. We went on a Tuesday night, and it was 2-for-1 margaritas and martinis during Happy Hour (4pm - 7pm). I think the drink special varies daily (Monday is dollar margarita night from what I hear) *EDIT: see comments for all Happy Hour specials*. We weren't impressed with the house margarita (which we were able to try both frozen and on the rocks because they brought the wrong ones out first). But several of the martinis we tried were pretty yummy.
The wait staff needs some work, although I suppose it could have just been our waiter. People like to make excuses for wait staff at new restaurants, but I personally think that's the time when there should be no excuse. You should have started out with good training, started out with experienced staff...I don't think you should start out hoping things will get better. I do understand working out some kinks, but there's no reason you shouldn't be doing everything in your power to make things run extra smoothly in the beginning. How else do you expect to win people over? Slack off later, when we're already fans.
Anyway, things seemed to take awhile to come to our table (and as I already mentioned, drinks came out wrong). But all the food we had was very good. I think the prices are a bit high, like everything should seriously be 2 or 3 dollars cheaper. i don't feel like Mexican food should be very difficult or expensive. I do understand using better quality ingredients, or having large portions, but I don't think they really did anything so fabulous as to require the extra cost. They have a unique menu (duck quesadillas?) and lots of options. I think it's worth a try, and would easily be a place to frequent if there was something specific you really liked. However, if you're just in the mood for some Mexican and margaritas, I think there are plenty of cheaper options in town that would perfectly satisfy your tastes.
If memory serves me right, I'm pretty sure the Baton Rouge menu is the same as their
Lafayette menu
(there's no website for the Baton Rouge location yet).
They have a red salsa and green salsa, not exactly like Ninfa's, but a similar idea. We were also excited about the side orders, as corn grits are an option and we were all huge fans of corn grits (although for some reason, everyone's grits came out after all of the food). We also tried the southwest mashed potatoes and those were excellent. But they have the requisite rice and beans as well.
neuvo crab enchiladas
el patron burrito
fajita burrito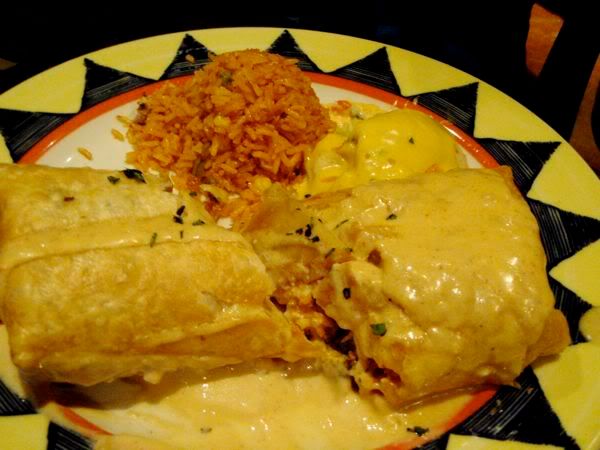 corn, crab & poblano soup - essentially a corn and crab bisque. very rich and very yummy.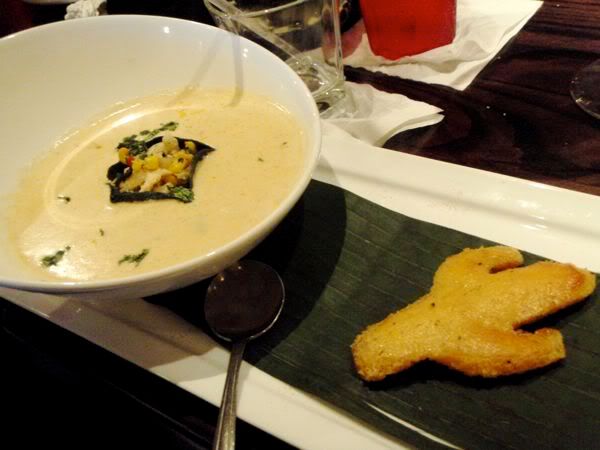 I would say take a look at the menu, you may decide there's something you definitely must try. I don't think i would bother going if I wanted anything too generic, as I could spend half as much and get just as full elsewhere. Although going during Happy Hour will certainly make it more worthwhile.