Eh.
Hits and misses. One of the misses being the service. So I'll start there.
First off, once we were sat, it took awhile before anyone stopped by to check on us. The waiter's excuse ended up being that he was waiting for more people to sit down (only half our party was there). And I don't really mind the excuse, I guess I'm just used to someone stopping by regardless and ASKING if we want to wait for the rest of our party or not. And since we were all rather dehydrated from the night before, we didn't want to wait to just order some drinks.
And honestly, I would not have even mentioned that mishap normally, but the fact that things didn't stop there, I feel like I might as well give full disclosure.
So, we order drinks and an appetizer. Mainly we got glasses of water, but my friends also ordered some strawberry banana smoothies. The smoothies were ready and sitting on the counter for quite awhile, the bartender even had to remove their whipped cream topping and re-top them because they sat there so long and sorta melted. Eventually they made it the table (like, 3 feet away from the bar) and were absolutely delicious. But we were still waiting on our appetizer. Then, once the rest of our table arrived, the waiter took their drink orders, and then asked us to let him know if we wanted an appetizer...and I was like "we already ordered one". I think he then immediately remembered that we had, but he didn't remember what it was, and obviously hadn't put it in. We ordered another to go along with it, and he said he'd put a rush on it. (Again, another mishap I'd overlook, but there's a list so you're getting all of them).
We ordered the hummus and avocado egg rolls. I didn't try an egg roll (I'm not a huge avocado fan) but I hear they were awesome.
The hummus was good too, but it required an entire extra plate of pita to finish. And we were not taking small dips.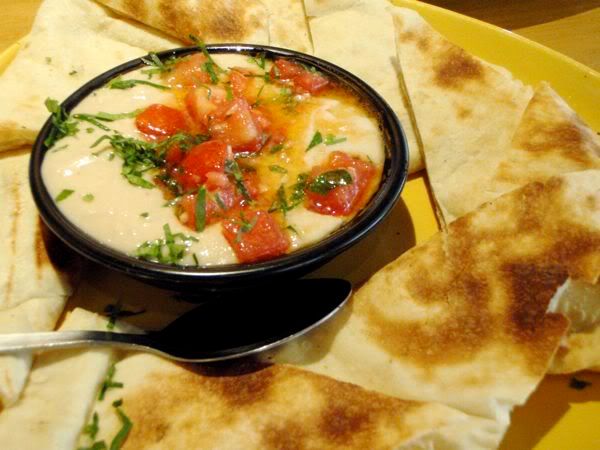 I find a lot of places don't give you enough bread/chips/pita to use up all of whatever dip you order, but usually you only need a few more pieces. Never have I needed an entire extra plate (and honestly, could have still used a few more pieces). It just disappoints me when places obviously don't do enough pre-test to determine the correct portions. And I don't think they charged for the extra pita, so it's not like they were short-changing us just to make an extra buck. (And if they did charge, then I'm disappointed with them pulling such a scam).
And here's the main problem really. This is what our table looked like, BEFORE we got our pizzas. Seriously, pre-bus anyone? We had 5 people, yet there were like 10 glasses on the table. We actually started stacking everything in the hopes that someone would notice.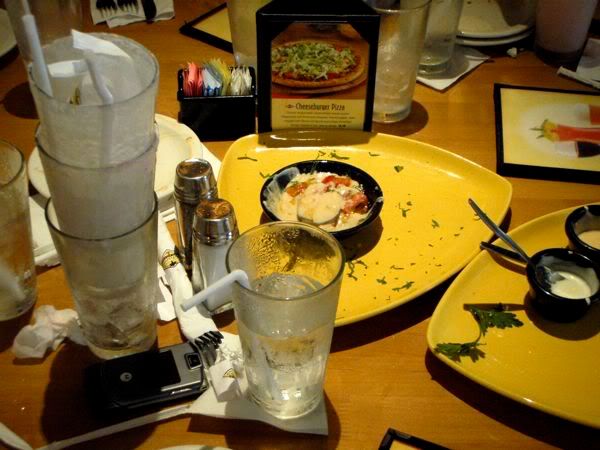 And it wasn't like everyone had just finished their smoothies, this stuff all sat on the table for about 10 or 15 minutes. Our waiter made several stops to deliver new drinks and check on other things, but never touched an empty glass or plate. It wasn't ridiculously busy (it was the late lunch rush, but nothing really excessive). And not only did our waiter not pick it up, but no other waiter picked it up, and no manager came by...like, no one in the entire restaurant managed to notice and do something about it. We were sitting right in the middle of everything too. What kind of training did this team have?
Eventually our pizzas came, and it all seemed a bit mediocre. Some people's were piping hot, while others were barely lukewarm. This restaurant sits over 100 people, so you cannot tell me that it's impossible to manage the ovens well enough to produce 5 hot pizzas at the same time.
I only have pics of
(
two
Collapse
)